Good morning, and happy Friday to everyone! It's a holiday weekend which means book reading and movie watching for me! There are a ton of books I want to read this summer, and even more books that are being made into films that must be read before I watch the movie. Compiled below is a small list of books that I want to read, but it doesn't hold a candle to the amount I have saved on my Amazon list!
Lie In Wait
Eric Rickstad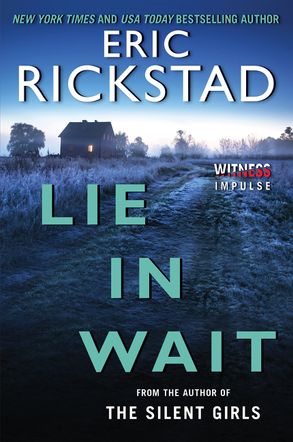 We all know how much I LOVED Rickstad's other book, The Silent Girls, and I have been ready to read this one since I put his last work of art down. This is next on my list of books to read, and I couldn't be more excited to dive right back into his writing. If you haven't read his work, you need to pick up a copy and definitely give it a try. The Silent Girls gave me everything I needed in a book, and I can only imagine this will do the same. Especially since it features Sonja Test.
The Names Of Dead Girls
Eric Rickstad

This book hasn't even been released yet and I'm already counting down the days until I get to read it. It's the much anticipated sequel to The Silent Girls, and if you've read the book you understand how imperative it is to get this book and figure out what happens. Rickstad left us on a major cliffhanger, and I have been chomping at the bits to figure out what is going to happen next. Be on the lookout for it in September!
The Girl With No Past
Kathryn Croft


This was a book I had on my wishlist that my sister surprised me with (along with another bundle of books, she's the best sister really). The synopsis intriguied me, stating it was 'a gripping psychological thriller for fans of Gone Girl and Girl on the Train'. If anyone knows me they know that Gone Girl is one of my favorite works, so I'll read anything that is compared to it. I've never read any of Croft's other books, but it sounds like something I might be interested in doing.
13 Reasons Why
Jay Asher


I've recently started this show on Netflix, which is normally something I don't do before I read the book, but this time I wanted to watch the show first. It is gripping, emotional, and downright fantastic. I can only imagine the book is better since it translated so well on screen. It not only is eloquently written(it seems anyway), it has a great message that I think everyone could benefit from. I've read the first couple of pages of the book, but I can't wait to dive into it.
Dark Places
Gillian Flynn


GILLIAN FLYNN. I feel like that's all I need to say for this one. Anything she touches turns straight to gold. This stands to be the last of her books I haven't read yet. It sounds great, and I think it will end up being wonderful.
Dangerous Girls
Abigail Haas


I'm not biased when it comes to books. I'll read a YA novel if it has a interesting plot and a good rating. Dangerous Girls has almost 5 starts on Amazon, Goodreads, and Barnes and Noble so there must be something good about this book. It's on my list and I have no shame.
The Handmaid's Tale
Margaret Atwood


I can't wait to get my hands on this book. A future where woman are only here to service The Commander. They are here to have babies and be a servant to him. They are not allowed to read, work, anything. The only way they are valuable is if they can provide a child. Terrifying right? I can't wait to be completely shook by this book, and the Hulu series.
While this is just a few of the books on my list, know that there are so many more that I can't wait to read. I have a plan to read 50 books this year so please give me your suggestions! I'm open to anything and would love to hear what you all are reading, or what you've already read and love.
I'm currently reading The Good Girl by Mary Kubica and it's getting off to a GREAT start.
Happy Friday, and Happy Easter to everyone!